Tor UK acquires Can't Spell Treason Without Tea
Tor, an imprint of Pan Macmillan, is delighted to announce the acquisition of Can't Spell Treason without Tea plus three other fabulous cosy fantasy books by Rebecca Thorne. Publisher Bella Pagan acquired UK and British Commonwealth rights, excluding Canada, from Anna Carmichael at Abner Stein. Monique Patterson, VP, Editorial Director for Tor US's Bramble imprint, acquired US rights from Taryn Fagerness, the Taryn Fagerness Agency.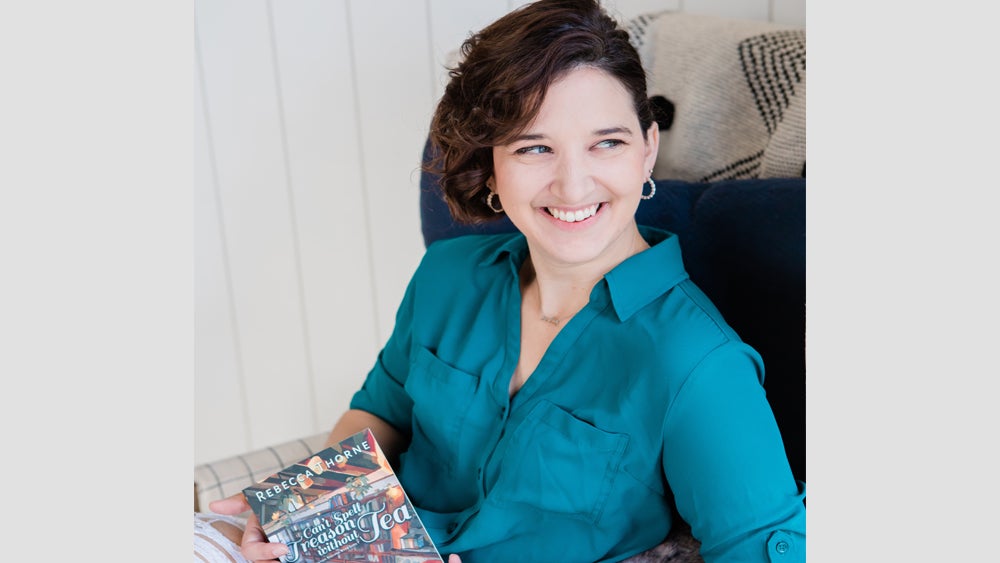 Can't Spell Treason Without Tea is a gorgeous heart-warmer of a book, filled with cozy adventure, sapphic romance and good feelings. Here, all Reyna and Kianthe want is to open a cozy book shop that serves the best tea. But Reyna belongs to an elite sect guarding a vengeful queen – and Kianthe is the most powerful mage in existence. Leaving their lives behind seems impossible. Yet they flee to Tawney, a town nestled in the icy peaks of dragon country, and open the bookstore of their dreams. What follows is a tale of mishaps, mysteries, and a murderous queen throwing the realm's biggest temper tantrum. And two women will discover what they mean to each other… and their world.
This is for all those who love Travis Baldree's Legends & Lattes, Olivia Atwater's romances and TJ Klune's The House in the Cerulean Sea. 
Rebecca Thorne says: "I am beyond excited to announce that Tor UK and Bramble acquired the Tomes & Tea series, starting with fan favourite Can't Spell Treason Without Tea. This series was intended to show that it's always possible to create lives of romance and quiet comfort, even in a chaotic world. We just need to be brave enough to claim the life we want! Tor has long been my dream publisher, and I'm thrilled that my badass lesbians have found such an incredible new home there."
Bella Pagan comments: "I fell in love with this cosy warm-hearted tale from the first page. The delicious combination of peril, romance and tea (you can never have enough tea…) was bewitching in the best possible way. Treat yourself and bask in the warm glow of this book as you enjoy Rebecca's wonderful writing."
Monique Patterson says: "Rebecca Thorne is an amazing new talent blending cozy fantasy with delightful romance in a way that is sure to make readers fall head over heels in love with the Tomes & Tea series. Prepare for adventures in life and love!"
Can't Spell Treason Without Tea and A Pirate's Life for Tea are both available to purchase in ebook from Tor UK who will publish Can't Spell Treason Without Tea in hardback and other formats, with a new cover style, in spring 2024. Can't Spell Treason Without Tea is Book One in the Tea and Tomes series.
About the author
​Rebecca Thorne is an author of all things fantasy, science fictional and romantic. She thrives on deadlines, averages 2,700 words a day, and tries to write at least three books a year. (She also might be a little hyper-focused ADHD.) After years in the traditional publishing space, Rebecca pivoted into self-publishing. Now, she's found a happy medium as a hybrid author, and leans into her love of teaching by helping other authors find their perfect publication path. When she's not writing (or avoiding writing), Rebecca can be found traveling the country as a flight attendant, or doing her best impression of a granola-girl hermit with her two dogs. She's always scheming to move to a mountain town and open a bookshop that serves tea. 
Tiktok: rebecca.thorne
Twitter: @RebeccaThorne42
www.rebeccathorne.net
About Tor UK
Tor UK specializes in speculative fiction and is a destination for the best in imaginative storytelling. A sister company to Tor Books in the US, Tor UK publishes an impressive array of award-winners, bestsellers, household names and talented debut authors. Tor's mission is to publish out-of-this-world genre fiction and bring readers books that spark joy. It strives every year to increase the diversity of its list, publishing authors from minority backgrounds and increasing positive representation of gender issues through fiction. 
Reflecting this, Tor UK was shortlisted for Imprint of the Year at the British Book Trade Awards this year. Bella Pagan, Tor's Publisher, was shortlisted for Editor of the Year at these awards and received a 'Highly Commended' endorsement. Tor UK was also shortlisted for Imprint of the Year in 2022. Pan Macmillan publishes fantastic speculative fiction authors including Jennifer L. Armentrout, Douglas Adams, Olivie Blake, Zen Cho, Genevieve Cogman, Cassandra Clare, Peter F. Hamilton, Lucy Holland, TJ Klune, Freya Marske, Arkady Martine, Naomi Novik, Shelley Parker-Chan, Christopher Paolini, John Scalzi and Adrian Tchaikovsky.

www.panmacmillan.com/tor
About Pan Macmillan
Pan Macmillan is the UK general book publishing arm of the Macmillan Group, which operates in over 70 countries.  Its imprints include Macmillan, Mantle, Pan, Picador, Bluebird, Tor, Macmillan Children's Books, Macmillan Collectors Library, Kingfisher, Campbell Books, Two Hoots and Macmillan Digital Audio. Pan Macmillan won the Publisher of the Year award at The British Book Awards in 2015, 2017 and 2020.

www.panmacmillan.com
Author photo: ©2ComfortsPhotography