Former Children's Laureate, Chris Riddell, Curates New Poetry Anthology to Comfort and Inspire Us in Dark Times
Macmillan Children's Books is delighted to announce Chris Riddell's new poetry anthology, Poems To Save The World With, which offers comfort, strength and hope on how we will all recover from the global pandemic.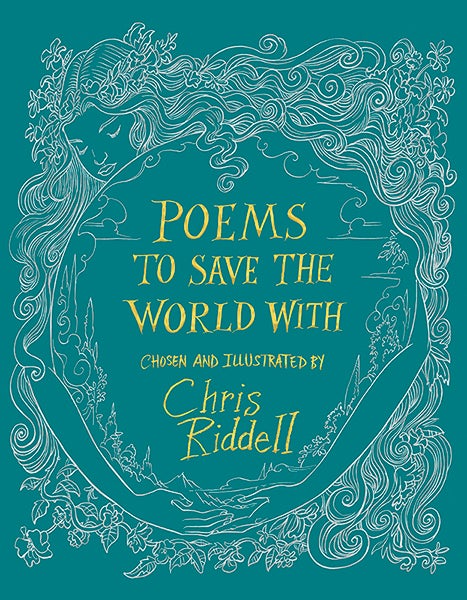 Poems To Save The World With is the third poetry anthology that award-winning author and illustrator, Chris Riddell has collated following on from the bestselling success of Poems to Live Your Life By and Poems To Fall In Love With.
 Last Year Poems To Live Your Life By was selected by National Poetry Day as one of the best poetry books from the past 25 years. The latest anthology will be publishing in hardback, this autumn on 17th September 2020. MCB acquired world rights from Philippa Milnes-Smith at The Soho Agency.
As with the previous poetry anthologies, Chris has illustrated each poem with his unique signature style, reinventing poetry on the page and bringing the words visually to life and  eliciting the readers' emotions. The collection is broken down into topics from 'Happy Thoughts' to a specific section on 'Lockdown', which includes a wealth of new material  written during the pandemic, including Nikita Gill's 'Love in the Time of Coronavirus' and Chris's own poem 'Lockdown'.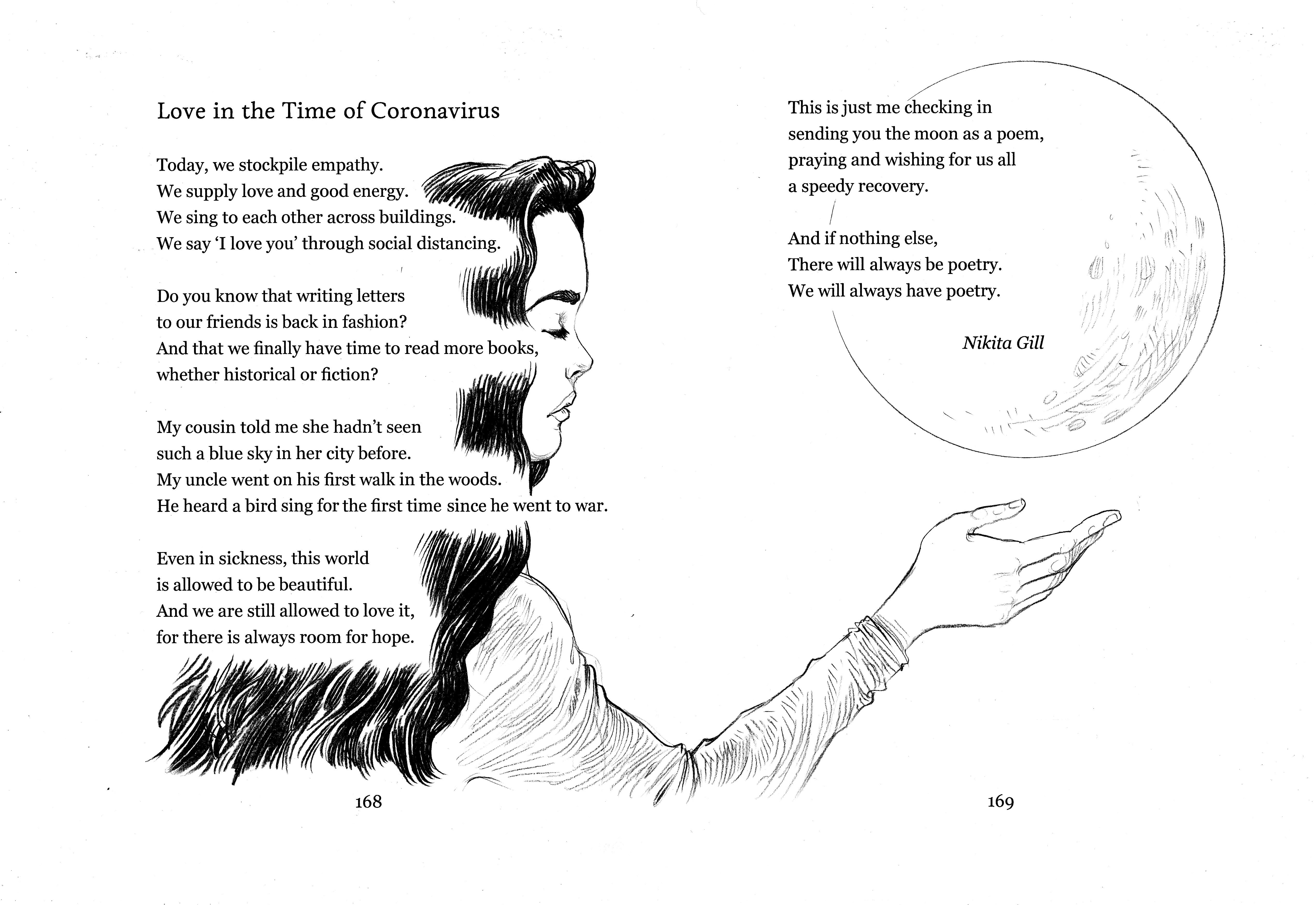 Love in the Time of Coronavirus, text (c) Nikita Gill 2020, illustration (c) Chris Riddell 2020. From Poems To Save The World With by Chris Riddell, Macmillan Children's Books
The anthology encompasses a variety of Chris's favourite poets from classical voices, John Keats, Emily Dickinson and Lewis Carroll, to some of his regularly featured contemporary voices such as A. F. Harold, Neil Gaiman and Nikita Gill. Chris also introduces some new voices that haven't featured in any of his collections before including President Abraham Lincoln, Paul Stewart and Fiona Benson.

Gaby Morgan, Editorial Director of Poetry and Non-Fiction, Macmillan Children's Books, says, "Chris has chosen an astonishingly beautiful selection of poems that is very much about this particular moment in time but which will resonate for years to come. It is a powerful collection of poems about kindness, hope and resilience all brought to life with Chris' exquisite artwork."
On collating the poetry collection, Chris says, "When I started working on Poems to Save The World With, few could have imagined the pandemic we were all going to face. The solace that poetry has always given me has been heightened during these dark days. Illustrating the beautiful poems in this anthology has given me joy, insight and hope in this time of crisis. Poems curate thoughts, lift our spirits and call us to action. They are tools we can use to save the world, now more than ever. It is what poetry does."
The Macmillan children's poetry list celebrated 25 years in 2018. In that time, it has published bestselling and award-winning single poet collections and anthologies with both new and established poets. In 2019, Macmillan Children's Books was the number one children's poetry publisher in the UK, and for the last two years has had 3 out of the top 5 children's poetry titles in the UK TCM, with anthologies by Allie Esiri and by Chris Riddell. MCB has a strong school-facing poetry list, and to date Brian Moses and Paul Cookson have each sold over a million copies of their titles. The recent MCB 'Poetry to Feed Your Soul During Lockdown' online festival was a huge success, reaching over 100,000 people through their social media channels throughout the week. 
You can watch Chris draw and read the poem 'No Man Is An Island' by John Donne, which features in Poems to Save The World With on YouTube: https://www.youtube.com/watch?v=yNxyykHoKGE
There are promotional plans for Chris to host some special virtual live-drawing poetry events around his newest anthology, Poems to Save The World With in the autumn.
For further information please contact Amber Ivatt at Macmillan Children's Books, amber.ivatt@macmillan.com